Bringing my body into submission for fitness sake.
So in an attempt to keep myself accountable health-wise, I have decided to chronicle my efforts at bringing balance back to my physical health.
Given my current disposition, this is not unlike bringing balance to The Force. It will invariably involve exposure to intense opposition from forces (self-inflicted and external) bent on my destruction; alien beings from some trans-dimensional space-time continuum, who consider me to be nothing but space fodder. There will also be a requirement to identify and seek out divine intervention from a Messianic Entity begotten via Immaculate Conception. Seriously.
But first a little preamble.
I have always been active (well…historically anyway). From my early teens I participated in Soccer and Track & Field. Track & Field held my interest up until my College/University days. Training 6 days a week and attending school full-time, plus homework proved a challenge. No regrets though as my training regimen afforded me the opportunity to travel across Canada and the USA for training and Track Meets.
If I have any claim to fame it is that I was fortunate to compete in the Canadian Olympic Track & Field Trials in Winnipeg Manitoba during the summer of 1979. That was the year prior to Canada boycotting the 1980 Moscow Olympics. I never did make the Olympic team but still had a good showing in my events; 110 metre hurdles, along with the 100 & 200 meter sprints. You can deduce form these events that I was not a middle or long distance competitor. Oh I did unknowingly allow myself to be talked into the 400 meter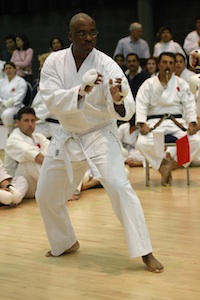 sprint on a couple of occasions. The fortunate fallout of that blissfully fuzzy timeframe resulted in Lactic Acid and I never reconciling our differences; even to this day.
Up until several years ago, I was competing with my daughter (then 18) on a national level in Shito-Ryu Itosi Kai Karate. Even made it into the top five nationally in my division – Brown Belt. As life is known to do, it happens. Got laid off from work and all motivation to complete my Black Belt ranking evaporated.
Now there is a big time difference between a young man in his twenties, competing for a spot on an Olympic team and a somewhat used half-century old, grey-bearded contemplator, feverishly trying to maintain visual line of sight with a navel that he could have sworn existed in his younger days. And that ladies and gentlemen, is one of the primary motivators to get myself in some semblance of healthy order. Yes, having a balanced blood pressure, low cholesterol, more energy, better sleeping patterns and the increased probability that I will be around to see my grandchildren, are all high priority reasons for getting in better shape. But tracking down my elusive navel…well you could say it was the tipping point that has brought me to where I am today.
Speaking of which, I am 6ft tall and tip the scales at 245lbs (with clothes). I am going to grab my first Mulligan and say 240lbs when naked. My desire is to lose 45lbs. My realistic goal is to initially get to a minimum 25lb reduction by my next birthday (Sep 5th). It is now Jan 4th 2016. I will post all future missives (on this blog and Twitter: @cynapz) about my attempts (and failures) during the process as I aim for that goal.
Well, if you feel like a good laugh, or cry for that matter; or are just willing to risk being exposed to that which will cause you to gasp in horror, you are welcome to come along for the ride.
Your comments, suggestions, heck even your criticisms are welcome. Just keep things clean and constructive.
Stay Tuned.
I discipline my body like an athlete, training it to do what it should. Otherwise, I fear that after preaching to others I myself might be disqualified. | 1 Cor 9:27 [NLT]