Twinkle, twinkle little star;
How I wonder what you are;
Up above the world so high,
Like a diamond in the sky.
When the blazing sun is gone,
When he nothing shines upon,
Then you show your little light,
Twinkle, twinkle, all through the night.
Then the traveller in the dark,
Thanks you for your tiny spark;
He could tell which way to go
If you did not twinkle so.
In the dark blue sky you keep,
And often through my curtains peep;
For you never shut your eye
Till the sun is in the sky.
As your bright and tiny spark
Lights the traveller in the dark,
Through I know not what you are,
Twinkle, twinkle , little star.
I awoke this morning remembering portions of this children's rhyme my mother taught me as a toddler. It's funny, but as the years have unfolded since those youthful days of innocence, I have to a certain extent lost the wonderment of what it means to see the world through the eyes of a child. That realization has once again come to the forefront with poignant force, as I pause to consider this particular day with the eyes, ears, scars and weariness of an adult.
I do not mean to belittle the fact that life happens. Yes, as you get older, the once smooth, soft and pliable cocoon of innocence invariably becomes exposed to the harsh realities contained in the forces arrayed around it, and unfortunately, over time, this may lead to hardness and brittleness. But at this juncture in my life, you could say that I am on a Search and Rescue mission to recapture that which has eluded me over the intervening years.
The irony in all this is that sometimes, in order to regain a healthy perspective of innocence, or what is good and right in this world, you have to retrace your steps through what could be construed as enemy territory; Sorrow..Loss..Regret..Pain…among others. The good news is that it is quite doable. An unexpected benefit of purposely traversing such familiar valleys of darkness, is that you get to fully experience life in its full and unabashed rawness.
Living life to the fullest and with unrestrained abundance requires that we have a proper balance of understanding what life entails. For each of us, those moments of revelation may or may not be similar in experience; but for me, giving myself permission to hope in spite of the current emotional scenery I happen to be travelling through, is more than worth the effort.
Today is my youngest son's birthday. Isaac would have been 18 years old. Saying how much he is missed can never fully convey the loss we feel, or the depth of love we have for him. I know he is safe and well, and at the end of our own earthly journey, we will share with him, the wonder of the Giver of Innocence.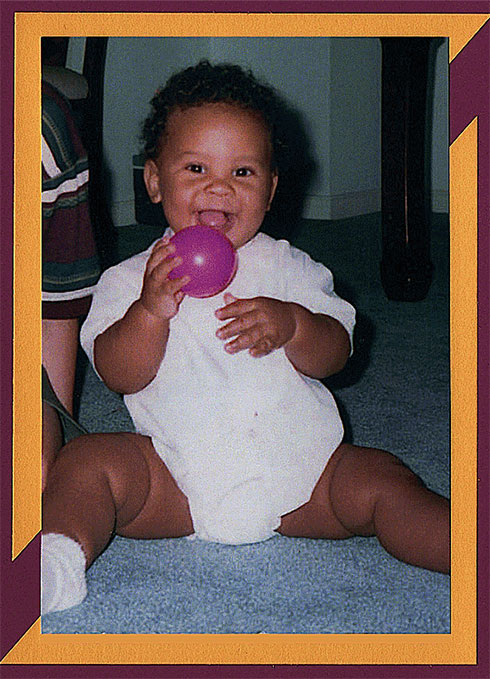 Isaac Winston Edwards
Sep 23rd 1996 – April 29th 1998
Matt 19:14 – Jesus said, "Let the little children come to me, and do not hinder them, for the kingdom of heaven belongs to such as these."